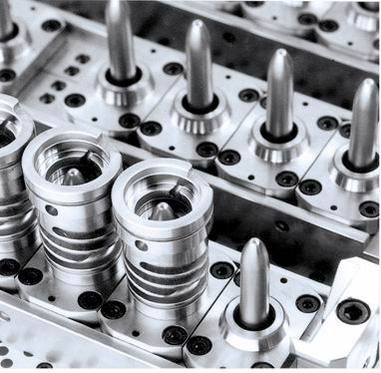 Research & Development
Only with constant innovation, can Sino assure its technological leading in this industry, and provide customers with much more fine solutions. Sino Holdings Group has a strong team devoting themselves to high-end scientific research of the world plastic industry and the world top technical application. They specialize in studying difficult mould structure, the promotion and the application of new philosophy, and provide a fine solution to our customers.
At present, Sino Holdings Group has many fruits on R&D:
IML solution is carried out by branches of Sino Holdings Group. With the coordination of IML Mould, High Speed Injection Machine, Valve Gate Hot Runner System and High Speed IML Robot, the fastest production rate comes to 5 seconds per shot, and we can produce 30ml barrel-shaped thin wall product with 16 cavities. Meanwhile, the least wall thickness for thinwall product is 0.4mm. This skill has achieved the No.1 in China, and taken the leading place in the world.
120 Cavity PET Preform Mould (Industry leading philosophy and scientific application)
For realizing multi cavity and high efficiency, Sino Packaging Mould Company has specially invested much money in developing 120 cavity PET preform mould and hot runner valve gate system. Through robot cooling system out of mould, it increases the PET preform mould's production rate. Equipped with Dakumar PET preform special machinery, it realizes an efficient production line integrated with mould, injection machine and robot, and fulfills the special needs of many beverage packaging companies.
48 Cavity Medical Test Tube Mould (Industry leading philosophy and scientific application)