SINO PK is a professional PET preform mould manufacturer in China, manufacturing PET preform mold for over 20 years. We are a Chinese famous PET preform mould maker and PET preform mould company, offer you high quality PET preform mold. Contact us to custom PET preform mould.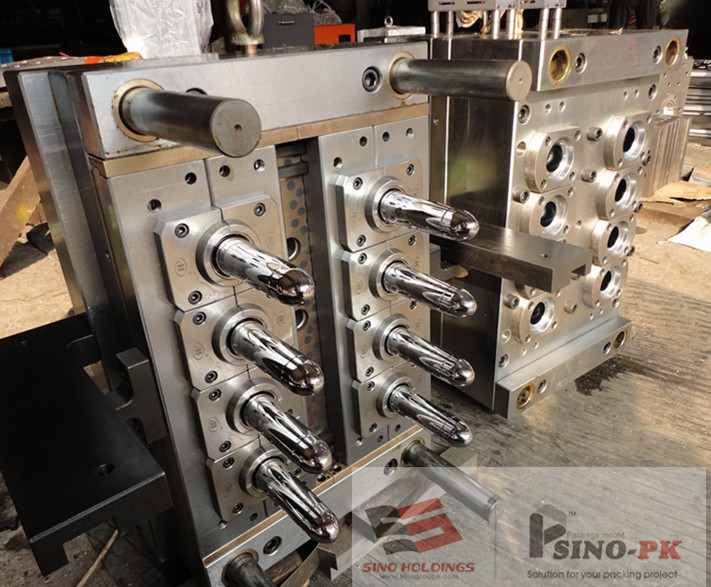 PET preform mould steel
PET preform mould core steel: STAVAX S420 stainless steel, tempered with HRC 50+/-2
PET preform mould cavity steel: STAVAX S420 stainless steel , tempered with HRC 50+/-2
PET preform mould neck screw steel : DIN 1.2083 with tempered HRC45
PET preform mould base steel: DIN 1. 2311 with grinding machine with each plate thickness tolerance 0.015mm for a plate size 500*500*40mm with HRC 32
PET preform mould spare parts steel: DIN 1.2344 dimension measure up to D-M-E matric standard
PET preform mould hot runner system
Anole hot runner system
http://www.anole-hot-runner.com/
PET preform mould design
all the moving area was inserted with durable parts which is interchangeable
2D mould assembling drawing and part drawing available with shipment
PET preform mould tooling
SINO pk use high precision tooling machine to machining every PET preform mould.
Fidia high speed CNC machine from Italy
Sodic high precision EDM and Wire cutting machine from Japan
Mazack high performance lathe machine from Japan
Also we have a professional project manager to follow the whole project , control every tooling step for our customer.
If you are interested in PET preform mould, please do not hesitate to call us or send you requirements via e-mail.