SINO-PK has successfully made 96 cavities of 26g PET preform mould in 2008, we are keeping on R & D for preform moulding technologies, we will be the most profesional packaging mould manufacturer in China. Annually, we made more than 600 sets of various preform mould such like 5 gallon preform mould, wide mouth preform mould...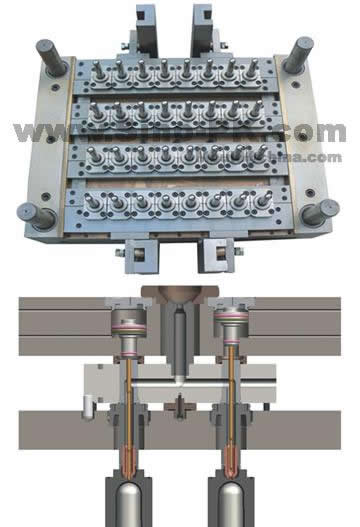 Mould Feature:
We can make 120 cavities so far.
PET Preform mould with valve gate system
Advanced hot runner system with German heating elements
1. Mould base steel: DIN 1.2311 with precision grinding machine with each plate thinckness tolerance 0.015mm for a plate size 500*500*40 with HRC 32.
2. Mould spare parts DIN 1.2344 in D-M-E metric dimension standard;all the moving area was inserted with durable parts which can be interchangeable;
3. Precision temperature controlling and even heating area for hot manifold;
4. Improved valve gate system with interchangeable and durable melt PET material sealing;
5. Cavity and core steel:Stavaxs420 stainless steel,tempered with HRC 55+/-2;
6. Screw neck slide inserted with prehardened DIN 1.2316,HRC 38 to HRC 42.
Sino Package Mould-PET Preform Mould Specification

Cavity
Length(mm)
Width(mm)
Thickness(mm)
Weight(kg)
Machine
4
450
240
460
350
50
6
650
240
460
550
88
8
560
400
480
800
138
10
630
400
500
950
188
12
680
400
500
1050
188
16
810
400
520
1300
268
24
670
600
550
1700
330
32
780
600
560
2000
380
48
1020
600
580
2700
500
56
1136
600
580
3050
500
72
1020
880
600
4200
650
96
1280
880
660
5700
780
120
1400
1048
680
7700
1080
128
1280
1160
680
7800
1080